The Sinclair Wagon was the home of Heathcliff Sinclair, his wife, Miranda, and their niece, Sammy, and was pulled by their two horses, Chesnut and Pepper.
They traveled in it all over Fragaria, making their livings as merchants and peddlers, until it was eventually destroyed during their trip to St. Curtis.
Appearance
Edit
The wagon appears as like a miniature house with a mostly square bottom and triangle top roof with blue tiles; elevated by four large wooden wheels.
On the left and right side of the wagon are large sliding windows that can be pulled up from the inside. On the back of the wagon is a lantern (also on the front) that can be lit during the evening, a double-paneled door that can be opened separately for viewing outside or fully opened to get in or out, and a short stairway that hangs just above the ground.
On the front of the wagon is a small sliding door, a large indent where Cliff or Miranda can control the horses from with a red wide-leather seat fit for two, brown wooden steps to elevate the driver onto the seat and two large shafts to keep the horses in place while in motion.
The floor is consisted of long wooden planks that go from the left and right sides of the wagon, while the walls are lined with blue wallpaper with white-thin lines streaming down. On the left side of the wagon is a light-brown sheet that covers the entire window and a brown treasure chest with gold rims.
On the front side of the wagon is a wide white floor-bed where Cliff and Miranda sleep with a red blanket and two pillows; above the bed is a shelf with a book stand of Meeros the Mortori Bird holding up three volumes of Potions and a lantern, and the small sliding door leading to the driver's seat of the outside.
On the right side of the wagon is a tall book shelf containing multiple items (including the glass case containing Mokurynn's Egg) with wooden guards on each level to prevent the items from falling over and two lines bolted to the wall to prevent the entire thing from falling, a calendar on the side of the shelf that seems to feature the Twelve Guardians for each month, and a white floor-bed with a single pillow and green blanket where Samantha sleeps.
In the center of the wagon is a yellow sheet that acts like a carpet for the residents to use for casual activities such as eating or writing. It's also where Rhea, Buwaro and Kieri slept while staying with the Sinclairs; covered by a pink blanket and sometimes extra pillows.
The Spring Flower Festival
Edit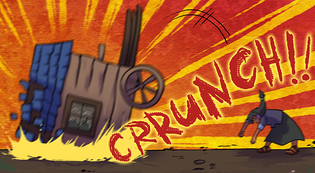 The wagon was destroyed during the battle of Saint Curtis by Miranda, after she threw it on to Triska and Haury.
Chu states the horses are both mares named Chestnut and Pepper.
References
Edit