Fuzen'ro Forest is a large forest located in the western-most part of Fragaria. It is the home of many Jakkai as well as the birth-place of Rhea Snaketail and Ramirez Bloodeyes. The forest is named after Fuzen'ro the Bat.
Geography
Guardian Statue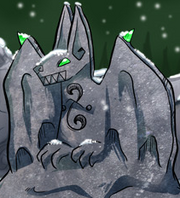 Somewhere, deep within the forest, are ruins that also house a large statue that's dedicated to Fuzen'ro the Bat. According to Rhea, it was made by her people's ancestors to show that the guardian protected the village and the forest.
Locations
Trivia
References
Community content is available under
CC-BY-SA
unless otherwise noted.